September 4, 2016, was a day of transformation at the Church of God in Jenkintown, Pennsylvania. Members hosted a Spa Day for their friends, family and neighbors. They set up hairstyling, facial and massage stations, as well as tables filled with hair and skin products.
"Since it was the Labor Day weekend, we decided to host something fun in the neighborhood. We normally use the fellowship space as a dining hall, so it was exciting to see the room completely changed into a spa area," said Halimah, a Church of God member.




But of course, the room itself was not the only transformation. The afternoon consisted of complementary manicures, facials, hair styling, makeup, and massages. Altogether, about 30 women of all ages tested the waters and tried new hairstyles. There were a plethora of hairstyle options to choose from, including small trims, bangs, wavy bobs, classic curls and even silky straight hair.
Strikingly, the most popular beauty station during the event was the "new dos" station. The facial and massage stations were also a favorite.
"The massage was great!" said Cierra, a local high school student who attended the event with one of her friends.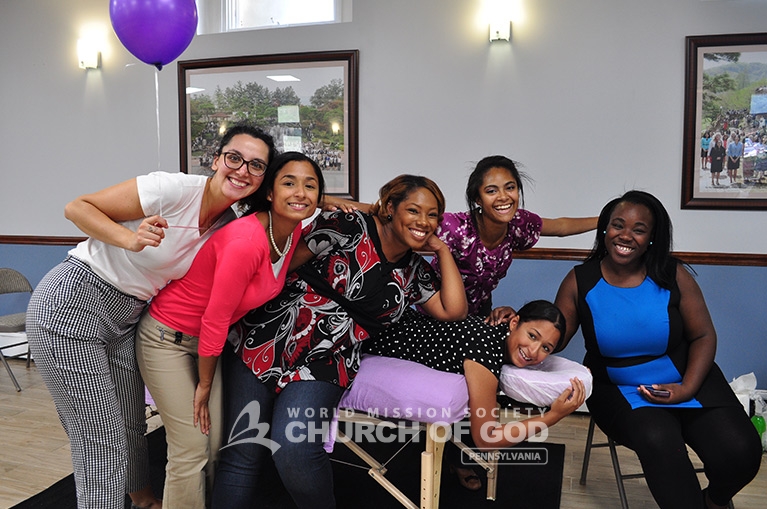 In addition to their new makeovers, guests also enjoyed pizza and homemade peach cobbler. There was plenty of pizza and peach cobbler to go around. And to make the night even more eventful, there was 90's music; no one was shy in dancing to their favorite 90's hits.
By the time the evening fell, everyone felt refreshed, renewed and rejuvenated. The Church of God members recapped the night, "We love serving our community and hope to do more events like this in the future," said one church member.